First Cup with Congressman Dr. Roger Marshall
Fri, Jul 17
·
9:30a
–
10:30a
As our state and community is challenged by a global pandemic, it leaves us feeling an array of emotions and unsure of how to move forward in a new state of normalcy. Decisions are made at the local and federal level which affect our every day lives.
Join us for a virtual coffee with Congressman Dr. Roger Marshall to learn how young professionals can be more engaged with their federal representatives. When registering for this event you will have the opportunity to submit questions.
Congressman Marshall is also a candidate to represent Kansas in the US Senate. He will briefly touch on that journey and campaign.
Don't miss out, register today.
W does not endorse political candidates.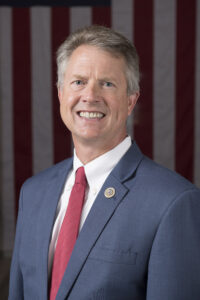 About Congressman Dr. Roger Marshall
Dr. Roger Marshall currently serves at the Congressman for the Big 1st District of Kansas. He was born on his family's farm in Butler County. Dr. Marshall became the first in his family to attend college. After graduating from Butler County Community College, Dr. Marshall received his Bachelor's degree from Kansas State University and received his Medical Doctorate from the University of Kansas.
Dr. Marshall served in the Army Reserves for seven years and practiced medicine in Great Bend for more than 25 years. Faith and community continue to be pillars in Dr. Marshall's life. He is involved in his church, has coached numerous community and youth sports teams, and is a proud Rotarian, having served a past District Governor. He also has a passion for the outdoors, and spends as much time as possible at his family's farm, the Quivera National Wildlife Refuge and Cheyenne Bottoms.
Roger and his wife, Laina, have been married for 36 years and are the parents of four children, and have two grandchildren. In Congress, Dr. Marshall serves on the House Committee on Agriculture and the House Committee on Science, Space, & Technology.
He serves as the health care task force chairman for the Republican Study Committee, the largest conservative caucus in Congress, and has been a congressional leader on new trade agreements, a national voice on pro-life issues and a champion of the 2nd amendment. He also takes a leading role promoting U.S. trade around the world.
Respecting the privacy of all members, W discourages the solicitation of goods; services; and educational, promotional, or employment opportunities at all W events, activities, and programs. In short, please bring your business cards, not your brochures, samples, or other promotional items.
Registrants of W events agree to allow W and its official photographer(s) to photograph them in the context of the event. Footage captured by the official W photographer may be posted on social media, shared with media outlets, and/or used in future print and electronic promotional materials. For questions or concerns, please call 316.268.1171 or email acabral@wichitachamber.org.