JuneteenthICT – Black Wall Street
Fri, Jun 19
·
9:30a
–
10:30a
Wichita Urban Professionals and W are partnering to bring you a special conversation with Chris Rogers, Project Manager of the famous Black Wall Street mural in the historic Greenwood District, to kick off June 19 and the JuneteenthICT celebrations. Chris "Sker" Rogers is a graffiti artist and cultural czar, born and raised in Tulsa, Oklahoma.
Through this conversation we will look at how this mural came to be, what it has meant to the community, and what crucial conversations have stemmed from the painting of this mural.
Don't miss out on this conversation. Register today.
Our Partners

About Chris "Sker" Rogers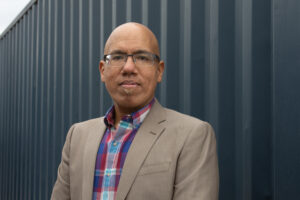 Chris "Sker" Rogers is a graffiti artist and cultural czar, born and raised in Tulsa, Oklahoma. After attending Booker T. Washington high school, he attended the University of Oklahoma on full scholarship, graduating with a BA in journalism.
Chris is recognized as one of the original founders of Oklahoma's graffiti art culture. Chris currently serves on the board of directors for the Oklahoma Visual Arts Coalition (OVAC) and focuses on professional murals, project management and curation.
As an art curator and event director, Chris has presented the following Tulsa art shows:
Fokus | 2008 at Loose Leaf Gallery – 2-man show with Chris Sker and Kris Kanaly from OKC
Okie Boys Graffiti Invitational | 2008 at Mad Dog – 10-man day-long public graffiti art event, with OKC and Tulsa artists represented
Art Party | 2009 at the Continental – 4-man group art show with David HEK Rogers, Aaron Whisner, Anthony Carrera & Jake Beeson
Decked Out | 2011 at Pen & Ink, Decked Out 2.0 | 2013 at Colour Studios and Decked Out 3.0 | 2015 at Mainline Gallery – Group art shows, each featuring 20+ artists from nationwide
As an art curator, Chris curated (and showed work in) the landmark group show "Not For Sale" in Oct. 2017. Held at OKC's prestigious Oklahoma Contemporary Arts Center, the 10-man exhibit was the largest graffiti art show ever presented in Oklahoma. In 2017, Chris was project manager (and one of five artists) for the "Tulsa Wall" graffiti art mural in downtown Tulsa. Later that year in Tulsa's Greenwood District, Chris created the "Welcome to Greenwood" mural and the "Remembering Black Wall Street" signage.
In 2018, Chris was Project Manager for the "Black Wall Street" mural, a 10-month project that Chris led from concept to completion. Also in 2018, Chris won the "Creative Catalyst" award (presented by Tulsa's Young Professionals) for his work promoting Tulsa's arts & culture.
In 2019 Chris was a member of the planning committee for the "Kendall Whittier Walls" program (facilitating the creation of 5 new Tulsa murals). That year he also served as project manager for the "Roam Home" mural by Codak Smith (in Tulsa's Pearl District) and he served as project manager for the "Tulsa Sound" mural by Thomas Detour Evans downtown.
As an artist, Chris has shown work at IAO Gallery OKC and Living Arts Tulsa, as well as painting live for OKC's Plaza Walls Mural Expo and Tulsa's Habit Mural Fest.
Chris has been commissioned for professional graffiti artwork by numerous companies, organizations and private clients. Since 2017, Chris has painted graffiti art for ABC TV's "American Idol," Tulsa International Mayfest, Guthrie Green, Tulsa's Greenwood District, Tulsa Regional Chamber, Wagoner Public Schools, Tulsa's Young Professionals, Edmond Arts Festival, Hub International, the Gathering Place, Booker T. Washington High School and the Oklahoma City Thunder NBA team.
Respecting the privacy of all members, W discourages the solicitation of goods; services; and educational, promotional, or employment opportunities at all W events, activities, and programs. In short, please bring your business cards, not your brochures, samples, or other promotional items.
Registrants of W events agree to allow W and its official photographer(s) to photograph them in the context of the event. Footage captured by the official W photographer may be posted on social media, shared with media outlets, and/or used in future print and electronic promotional materials. For questions or concerns, please call 316.268.1171 or email acabral@wichitachamber.org.FAQNewsContact