CAMPUS WICHITA
Aug 18, 2021 · Alejo Cabral
In 2005, the Wichita Regional Chamber of Commerce and the business community came together to launch Young Professionals of Wichita to answer the talent needs of our community by working to attract, retain, and engage diverse young talent. Sixteen years later, W (formerly Young Professionals of Wichita) continues to work and answer the talent needs of our community and businesses.
W is thrilled to announce the launch of Campus Wichita.
Campus Wichita is the result of years of hard work, planning, and evaluation of Wichita's diverse talent and business needs. Campus Wichita is an initiative of W dedicating time, resources, and dollars to prepare university and college students for the workforce in Wichita.
Within an hour and fifteen-minute drive of Wichita there are sixteen colleges and universities. Those institutions do an exceptional job of attracting talented students to their campus from every corner of Kansas and from across the United States. Through value-based programming and events, Campus Wichita is building bridges between these students and our local businesses. Campus Wichita will also work to place those diverse students in local, paid internships within Wichita's businesses. Beginning in Fall 2021, Campus Wichita will be working with local institutions, like Friends University, to launch the first phase of initiatives.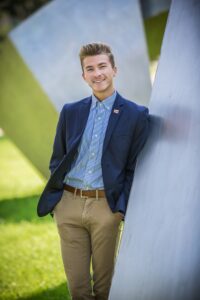 With this announcement of Campus Wichita, we are also excited to announce Josh Woods, W's current Program Coordinator, has been promoted to Program Manager of Campus Wichita. Josh will lead the development and execution of Campus Wichita's programming and website.
At W we believe diverse young talent is essential to the success of our community and organizations. We strive for success in everything we do. Campus Wichita is the next step in W answering the talent needs of Wichita.
For additional information contact Josh Woods at jwoods@wichitachamber.org.