Community Service Superstars
May 10, 2016 · wyoungpros
Congratulations to our first quarter Community Service Superstars! They will receive a free oil change courtesy of Davis–Moore Automotive.

YPW Service Superstar: Ambur Alfaro
Ambur Alfaro works as a Sr. Professional Relations Representative for Delta Dental of Kansas and is a member of the Ambassadors Action Team. Her company's philosophy of "being involved in the community and giving back" as well as her desire to connect with professionals compelled her to join YPW. The learning and growth experiences that she gained from YPW's Leadership Academy stands out to her the most during her time in YPW. "The lasting connections and amazing friends I have met through this opportunity was an added bonus!" Though her involvement, Alfaro has also learned communication, team work and inter-personal skills.
Alfaro and her husband are also involved New Horizons Ranch, Give Kids a Smile Dental Charity and YMCA Woman's Crisis Center just to name a few. Her favorite thing about living in Wichita is the people.
For people that want to get more involved in YPW, Alfaro suggests reaching out to the YPW staff to find out more about the organization, doing research and attending events/action team meetings. "Find out what you're passionate about and become involved!"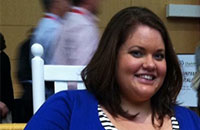 Community Service Superstar: Anna Meyerhoff
After completing graduate school, Anna Meyerhoff decided to use her extra free time and skills in public administration to serve others in the community. Meyerhoff is an active volunteer for Make-A-Wish which is an organization that grants wishes to children with life threatening illnesses. In her five years of volunteering for Make-A-Wish, Meyerhoff has been touched by the children and families that are served by this organization. "Their optimism inspires me every day."
She is also involved with Child Start which provides a variety of services for parents and child care providers. Meyerhoff is passionate about volunteering because "I have the ability to help others, so why wouldn't I? PLUS, volunteering is actually fun!" Meyerhoff works for Sedgwick County as an Operations Manager. Her favorite place to visit in Wichita is the Sedgwick County Zoo.
---
Want to win next quarter? Track your volunteer hours here.
Thank you to Davis-Moore Automotive for sponsoring the Community Service Superstar quarterly recognition. Each quarter, the YPW members who have tracked the most service hours to the community at large and to YPW specifically, receive recognition via the YPW blog and a certificate for an oil change from Davis-Moore!