2017 YPW Commitment Award Finalists
Jul 22, 2017 · Suzy Finn - YPW Executive Director
Congratulations to our YPW Commitment Award finalists! They include: Ashley Bandasack, Allen, Gibbs & Houlik, L.C.; Lauren Clary, Professional Engineering Consultants; and Teddy Farias, Wichita Area Technical College. The YPW Commitment Award is presented to the individual who has attended the most YPW events from July-June of the year leading up to Founders' Day. Learn a little more about our finalists below.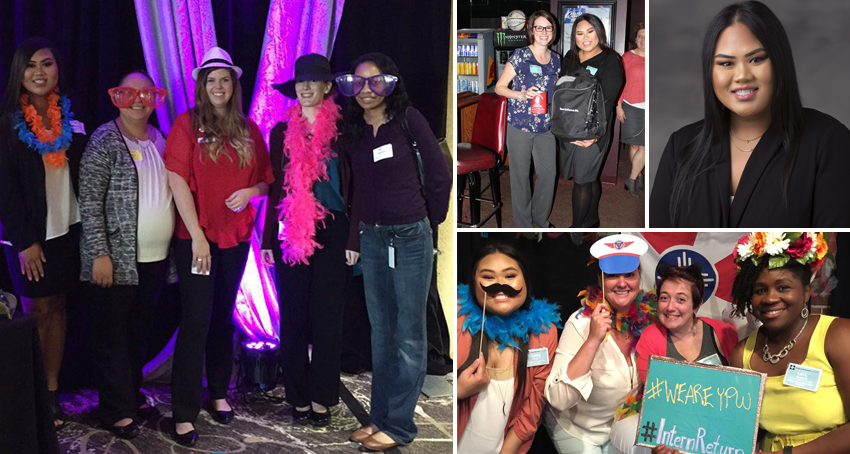 Ashley Bandasack, State & Local Tax Consultant – Allen, Gibbs & Houlik, L.C.
Follow: @abandasack | @aghlc | @ashbandasack
What is your favorite app and why?
My favorite app is Snapchat. This probably does not surprise anyone!! I am always talking about Snapchat and get super excited for any new app updates. I use it on a daily basis to communicate with family and friends. I may be slightly addicted to the fun facial/geo-filtering capabilities but it's also great to discover new places and things going on around you. Not to mention keeping up with all my snap streaks! fire emoji
What is your favorite college memory?
My favorite college memory would definitely have to be rush week at Wichita State University. Going Greek and joining a sorority was the best decision I made during my time at WSU. Greek life provided me with so many opportunities to get involved on campus, develop my leadership skills and make lifelong friendships. I have met amazing people who have influenced and helped shape me to become the young professional I am today.
If someone were to ride in your car, what would they hear?
Car rides with me can go one of two ways: We are either jamming out to some rap and hip/hop music or we are silently listening to Siri tell me where to drive. I have no clue where I am going half the time so I am constantly using my GPS!
 
Lauren Clary, Marketing Associate at PEC
Follow:  @PECEngineers
What was your first job as a kid?
My first job was cleaning horse stalls at a barn in Goddard. I cleaned about 15-20 stalls three times a week to pay for lessons to learn how to ride my horse.
Although, my first real, officially on the payroll, job was at Green Lantern car wash.
If someone were to ride in your car, what would they hear?
NPR in the mornings on my way to work. I switch between some others, but my favorite is 100.5 because they play '90s country, like Garth Brooks.
What has been your favorite YPW experience?
The Mentorship Program. I really enjoyed meeting my group for breakfast and discussing Wichita, as well as learning from some great community leaders.

Teddy Farias, Wichita Area Technical College
Follow:  @watcwichita | @watcwichita
What has been your favorite YPW experience?
My favorite YPW experience has been the YPW experience – meeting new people, attending events, socializing, networking, engaging with others and having fun. When I moved to town I only knew one person from Wichita. Immersing myself in YPW has helped me build lasting connections both personally and professionally.
What was your first job as a kid?
My first paying job as a kid was mowing lawns, raking leaves, and shoveling snow around town. I started around the age of 10. I charged $10.00 per lawn regardless of size. I hid the money in my room. I am still looking for some of it.
My first job with a W-2 was at Six Flags over Mid America. I worked at the employee only restaurant called AllStar. It was tucked away inside the park. It amazed me how a soda would cost $6.00 in the park, but only $0.50 there. It was a great summer job!
If you had to choose an Olympic sport to compete in, what would it be?
If I could compete in an Olympic event, it would be the decathlon. First and foremost, I think that the Olympics are incredible. It would be an honor and a privilege to not only represent one's country, but to also be one of the best in the world at something. I think that the whole experience of competing against and uniting with people from all over the world for a friendly competition would be amazing. I would like to do the decathlon because I feel that those ten events test mental stamina and physical ability in way that no single event can.
---
Find out what YPW member will win the YPW Commitment Award at Founders' Day on July 28 at The Hudson Venue.