2017 Community Service Award Finalists
Jun 28, 2017 · wyoungpros
Congratulations to our Community Service Award, sponsored by Davis-Moore Auto Group, finalists! They include: Allison Abedini, Fresenius Kidney Care; Jason Carlson, Meritrust Credit Union; Lauren Clary, PEC.  The Community Service Award is presented to a YPW member who is distinguished by their record of service to their community. They have engaged in continuing efforts to preserve and promote Wichita through their time, service, and talents. Learn a little more about our finalists below.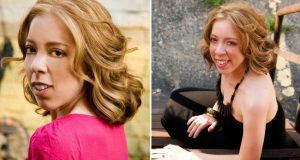 Allison Abedini, Insurance Coordinator at Fresenius Kidney Care
What has been your favorite YPW experience?
The community enhance project has definitely been my favorite YPW experience. It is a great feeling to know that by the end of the day you have helped a family and community improve their neighborhood. It is something that promotes teamwork among YPs. I have also met some amazing people during the last two Enhance projects I have been a part of.
What advice do you wish you would have known in college?
I wish I would have known the importance of networking. I have gained professional and personal opportunities just by reaching out to those around me. It is great to have the skills needed for a job, but being able to network and connect with those around you who can assist you on your journey is something that will prove to be valuable no matter what industry you are in.
What is your number one restaurant recommendation in Wichita?
This is a tough one because there are so many great restaurants here. I would have to say if you have not been to N&Js, you need to check it out if you like Mediterranean food. If you have never had Mediterranean food, this is a great place to start. My personal favorite is the chicken shawarma sandwich and their hummus is amazing!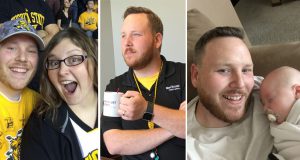 Jason Carlson, Assistant Branch Manager at Meritrust Credit Union
Follow: @jasonAcarlson @jasonacarlson @meritrustcu
What is the best event/show you've seen in Wichita?
Even as an adult, my favorite movie of all time is Lion King. When I learned that the musical The Lion King was coming to Wichita, I was ecstatic! My wife and I attended the show and we were not disappointed. The talent that Wichita is able to draw in is amazing and it was visually spectacular as well.
What was your favorite college memory?
As a college student at Wichita State I was a member of Beta Theta Pi. Through my connections in the fraternity, I met Karin Best-the future Mrs. Carlson. On senior night at her sorority, a couple of men serenaded her before I walked up and got down on one knee in front of her sorority sisters and her parents to ask her hand in marriage. It was a wonderful moment in our lives and it would not have been possible without Wichita State.
If someone were to ride in your car, what would they hear?
First off, I would like to apologize for anyone that rides in a car with me, because most likely they will hear me singing off-key to many songs from across the years. I love listening to today's pop hits, power ballads, musicals, rock, and rap.
 
Lauren Clary, Marketing Associate at PEC
Follow:  @PECEngineers
What was your first job as a kid?
My first job was cleaning horse stalls at a barn in Goddard. I cleaned about 15-20 stalls three times a week to pay for lessons to learn how to ride my horse.
Although, my first real, officially on the payroll, job was at Green Lantern car wash.
If someone were to ride in your car, what would they hear?
NPR in the mornings on my way to work. I switch between some others, but my favorite is 100.5 because they play 90's country, like Garth Brooks.
What has been your favorite YPW experience?
The Mentorship Program. I really enjoyed meeting my group for breakfast and discussing Wichita, as well as learning from some great community leaders.
---
Find out what YPW member will win the Community Service Award at Founders' Day on July 28 at Mid-America All-Indian Center. 
Thank you to Davis-Moore Auto Group for sponsoring the Community Service Award.