2021 Board of Trustees
Oct 02, 2020 · wyoungpros
W's Board of Trustees oversee our overall development, strategy, and long-term goals. The board helps ensure quality communication between all facets of the organization, assist in setting goals, and ground-level program planning. It is through their leadership W has been able to grow into the foremost authority on issues pertaining to Wichita's most viable workforce segment – talent.
We are excited to announce our new Board Members that will be joining W's 2021 Board of Trustees.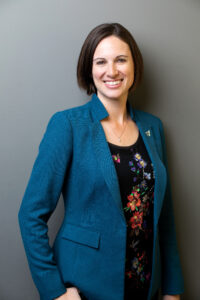 Chair-Elect
Lauren Clary – Kansas Gas Service
Lauren Clary is the Community Relations Manager with Kansas Gas Service. When she's not at work Lauren makes an impact in our community by volunteering with various organizations, including W, the Wichita Regional Chamber of Commerce, Greater Wichita Partnership, Sedgwick County Dist. 3 Advisory Board, and previously serving on the American Diabetes Association Tour de Cure planning committee.
What makes W's mission meaningful to Lauren? Engaging the young talent that are living in Wichita will retain them in our city. I want to make sure young professionals have the opportunities to sit at the community tables where decisions are being made.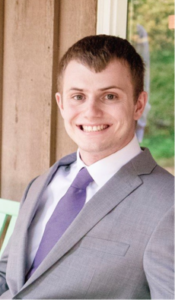 Volunteer Representative
Dillon Riegel – Cargill
Dillon is the Transportation Accounting Supervisor with Cargill. Dillon pours himself into our community by serving on the Board of Directors at the Kansas Human Society and the finance committee, as an advisor for the Beta Theta Pi fraternity at Wichita State University, and as the 2020 Chair of W's Impact Team.
What makes W's mission meaningful to Dillon? It all centers around one word – diversity. I enjoy how intentional W has been about making diversity a priority through all levels of the organization. That includes pursing diverse members, i.e. different races, genders, places of work, different ideals, etc. It has been exciting to see that diversity translate into better collaboration within action teams and at the board level. W has been vocal about ensuring all it's members have opportunities to thrive in our community.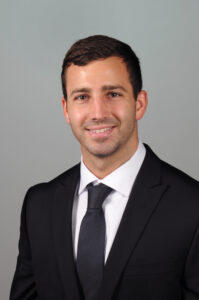 Member at Large
Alex Hamel – Spirit AeroSystems
Alex is a Global Mobility Analyst with Spirit AeroSystems. When he's not at Spirit, Alex works at Stryker Soccer Complex as a referee coach, mentoring younger referees, serves as an advisor on Spirit's Employee Business Resources Group Leadership Council, volunteers on Wichita SHRM's networking committee, and serves as the Chair of W's Develop Action Team.
What makes W's mission meaningful to Alex? I was hooked on W by the people involved and how passionate everyone is about providing opportunities for growth for the young professionals in the Wichita area. Since being involved I've gained a deeper appreciation for the lead W has been taking in community topics and how the organization has represented the YP's of the city.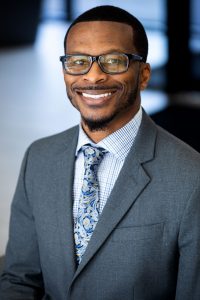 Member at Large
Darryl Kelly – Credit Union of America
Darryl is the Director of Project Management at Credit Union of America. Outside of CUA Darryl volunteers his time by serving on the City of Wichita's Transit Advisory Board, represents W on the Riverfront Legacy Master Plan Coalition, the Historic Dunbar Theater Advisory Board, serves as a speak/mentor/read to youth at multiple area schools (USD 259 SuperSAC group, Urban Preparatory Academy, Brooks Middle School, Beech Elementary School), and dozens of other community organizations.
What makes W's mission meaningful to Darryl? W's mission is meaningful to me because we make a tangible impact in the communities that we live in.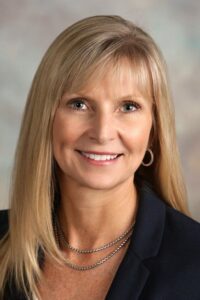 Community Advisor
Peggy Ward – J.P. Weigand & Sons, Inc.
Peggy Ward is the President and CFO of J.P. Weigand & Sons, Inc. and previously was a Senior Lecturer of Finance at Wichita State University. When Peggy is not at work she mentors students in the Cooperative Education program, and was the faculty advisor for Gamma Epsilon which was the female organization that became Kappa Kappa Gamma, and centers her involvement around organizations at Wichita State University, the Kansas Ultra Runners' Society, and running events.
What makes W's mission meaningful to Peggy? Building personal and professional connections is part of what makes life rewarding. Being able to mentor and be mentored helps the world go 'round. I feel the camaraderie built during one's membership in W will carry them through many stages of their lifetime.
I really enjoyed getting to meet some of the members of W due to the Coffee and Conversation event. I have met with some of the members who have reached out to me since. I would like to continue to build these connections.
As a volunteer-driven organization, our leadership team is a visionary group of talented individuals that set the direction of our organization.
W's returning Board of Trustees includes:
Kate Flavin, Sedgwick County – Past Chair
Jerica Newby, BKD – Chair
Rachel Steiner, Delta Dental of Kansas – Investor Representative
Ruth Nutting, Ph.D., LCMFT – KU School of Medicine and Ascension Via Christi – Member Representative
Christyn Gunter, Rise Up For Youth – Member at Large
Evan Wilson, Meritrust Credit Union – Community Advisor